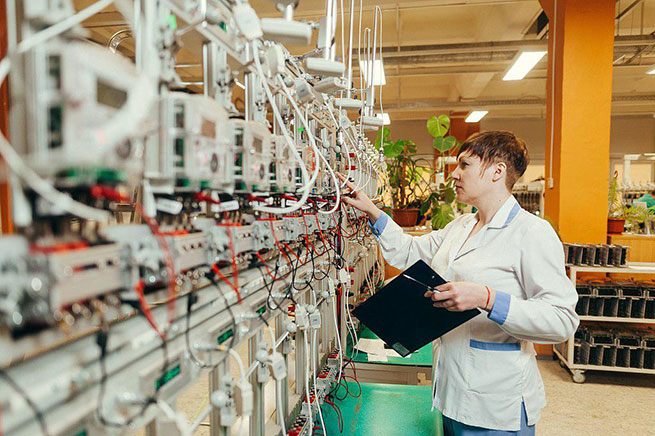 About us
«NIK-ELEKTRONIKA», LLC– is one of the largest electrical engineering companies in Eastern Europe in the field of development and production of metering devices, energy management systems, energetic consulting and engineering.
Nowadays the company combines high-tech automated production sites with calibration equipment, own design department and service center. A significant proportion of employees are highly skilled designers, engineers, developers, constructors, programmers, technologists.
Key areas of activity:
development and production of electricity metering devices,
water, gas and heat metering
production of constant-voltage units, current transformers and electrical support equipment/li>
development and implementation of AMI-systems and other automation and control systems in the field of energy
All products manufactured by the company are the developed by specialists of their own design department. The company is constantly working on improving its products, introducing innovative solutions in the field of energy and electrical engineering.
The products of the company are in high demand in Ukraine and are exported to the countries of Eastern Europe, the Near East and Asia.
Values of the company:
NIK-ELEKTRONIKA , LLC responses to changes in three main components: information, innovation and interests of consumers. The company promptly implements new solutions, regulates the flow of information when communicating with partners and customers. The synergy of these components helps the company to take bold and effective management decisions, dynamically develop and open up new horizons for themselves and their customers.
NIK-ELEKTRONIKA, LLC is sensitive to changes in the external environment and turns them into new ideas for their intelligent products due to its professional knowledge, experience and technical capabilities. That's how we create optimal decisions for everyday life.
This is an absolute postulate of the NIK-ELEKTRONIKA, LLC. All products of the company correspond to high standard of quality that is ensured by constant development and improvement of production processes at the enterprise, as well as well coordinated work of the team of specialists.
NIK-ELEKTRONIKA, LLC is already the leading brand in Ukraine. We are trusted by our customers and partners. In addition, the NIK-ELEKTRONIKA, LLC is a company where it is interesting and comfortable to work. Up to 20% of our employees have been working in the company for more than 10 years.
One of the basic principles of the NIK-ELEKTRONIKA, LLC is efficiency. This applies to every direction of our activities. We help our customers to keep accurate records of resources and use them efficiently. We are constantly improving our production processes and are looking for new solutions that help us to accomplish identified goals efficiently.
We realize our responsibility towards the future generations, for this reason we make contribution to the development of green technologies and apply alternative energy sources in production.
Our mission is
to create highly-accurate, effective knowledge-based tools to control the use of resources